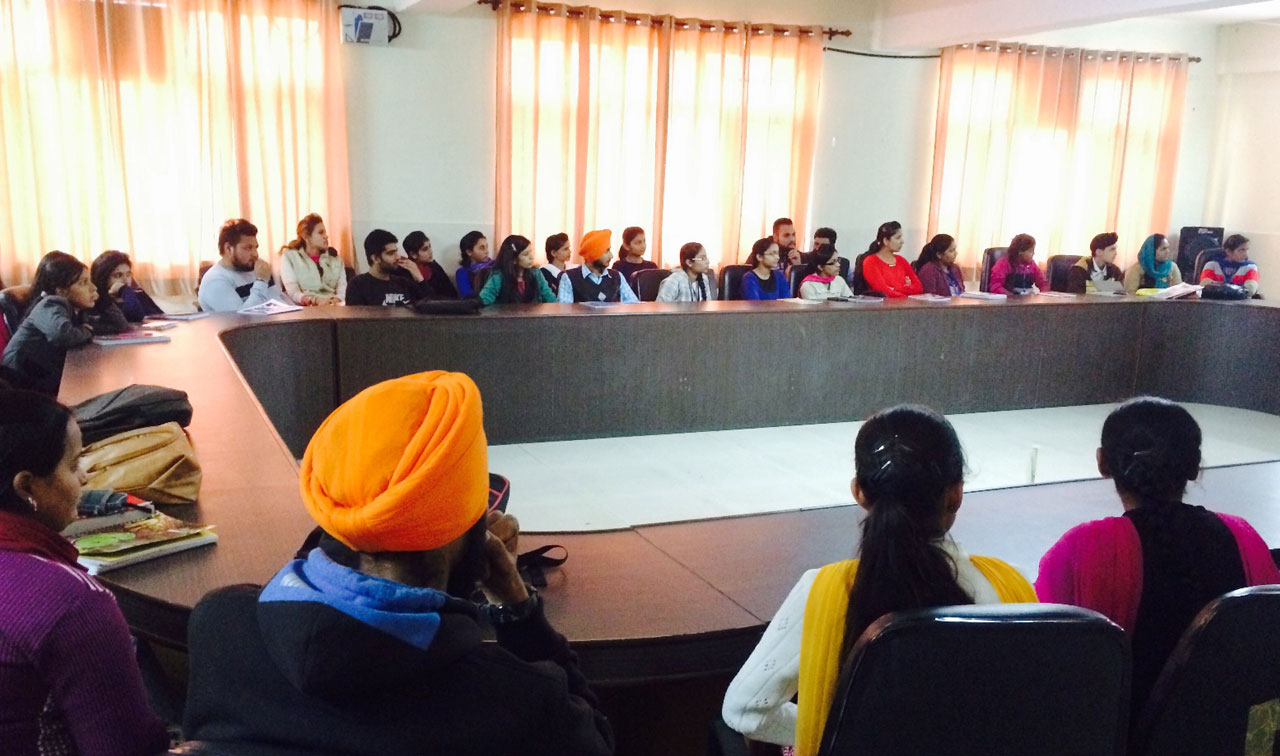 Workshop by O7
o7services is a company and is one of the leading IT companies which is in services of consulting, services and Web Solution business. That visualized and led the way the acceptance of the flexible global business practices that today enable companies to operate more resourcefully and giving power to produce more worth. o7services was able to achieve this by creating and perfecting the global expertise and delivery of high and good level of products and services to satisfy our clients in Information Technology services that also help in shaping business and delivering its services. On 13 Sep,2016 workshop was held by O7 Services at AnandCollege of Engineering and Management,kapurthala.In this workshop, they discussed different platforms in the IT sector. Different kinds of sessions were held by them to solve the various problems and doubt regarding technical skills.
Seminar by Kites
The Kites Freedom of Career is a leading IT company located in Jalandhar, Punjab. It has evolved in this era of Information Technology with the guidance from existing leaders in the market. The Kites majorly deals in Software, Web-Apps and Mobile-Apps Development. We are also leading this era for providing placements to the students of Technical and Non-Technical streams. Our IT Training venture has been working on nourishment of students of various Institutions.AnandCollege of Engineering and Management, kapurthala organized a seminar by Kites on 18 Oct,2016. About 35 Students were participated in this seminar. In this seminar company officials discussed about latest technologies. They highlighted the different aspects and languages related the IT sector.
Seminar by Nimble Technocrats
Nimble technocrats is a brand of NCI which provides software solutions for windows and Linux, web application development, website designing, search engine optimization (SEO) and search engine marketing services to their clients. KanchanSalotra, Varinderkumar&AbhayGoswami from Nimble technocrats conducted seminar on 8th Feb, 2016 for the students B.Tech CSE /ECE on the topic of software designing and development. In this seminar, they motivate the students about the Latest Technologies used for software development. They also created the app in android, so that all the students must have awareness of latest technologies.
Seminar on Project based learning
Seminar on Project based learning was given by Prof. Ashwini Sharma Mechanical Department TheNorthcap University Gurgaon on 15 Feb, 2016.The seminar was divided into three parts. Why students are doing engineering? Some stories on real world? How to do it? In first section he discussed that every individual must have aim in life then in the next session some projects like dual flush toilet, low cost machine for manufacturing sanitary napkins, low cost coconut cutting and puncturing machine, wild mill blade, food processing machine, laptop chair cum table for work from home ladies, All terrain vehicle, virtual prototypes etc were shown to the students. At the end, he said that for achieving your goal, you had to do hard work in every stage. The seminar contains some stories of real world engineers, importance of engineering in their daily life and how to cope up with the problems they face in their in their day to day life.
ACEM Conducted Seminar on Big Data and Cloud Computing in the collaboration with clicklabs
Training and Placement Cell, ACEM organized Seminar on Big Data and Cloud Computing in the collaboration with clicklabs for the students of CSE & ECE 4th semester on 24th Feb, 2016. Clicklabs are market leaders in delivering mobility solutions to entrepreneurs and enterprises looking to provide an omni-channel experience to their customers. Lecture was given by Mr.VinodRai on the topic of Big Data and Cloud Computing. The students were shown some of the live videos of these technologies and also seen how work is being done in the companies. He also suggested the students must opt for the latest technology for their bright future. The students cleared all their queries and had good experience.
Seminar by SLR Infotech
SLR InfoTech Pvt. Ltd is one of the leading Software Development Companies which provides complete Internet Solutions including Web Application Development, Web Design and Development, Internet Marketing, Search Engine Optimization, Graphic Designing, Content Designing, Multimedia Presentations. The team members of SLR visited ACEM on 26th Feb, 2016 to give seminar to the students of CSE & ECE on the topic of Embedded System & Networking. Students cleared all the queries regarding these technologies.